From the very beginning, the Michael Hopes project has been more for me than just a music experience. Through my music, I want to share my thoughts, feelings and ideas on our todays lifestyle, issues that we many times ignore and try to show you how step by step we all can make our life, our families and our communities happier, healthier while protecting our environment and nature. 
One of the main areas of my interest in the past few years has been today´s agriculture and it´s sustainability. Thanks to my participation on CleverFarm project, I was able to understand many of the issues farmers have to face today including ever growing gap between rich and poor. 
Agriculture could be a strong instrument for helping even small farmers earing fair money and start to slowly swim out from the waters of total poverty. For this, every farmer needs one important thing – he has to be able to sell his harvest for a fair price. Unfortunately, many times this is not the case. 
As most of the farmers do not have premises to store their production, they are forced to sell their crops immediately after harvest and this is a very good base for food traders, which often misuse this opportunity to buy farmer´s production of unfair prices. 
An so it happens, that even most of the work was done and most of the risk was carried by our farmer, in the final stage he is not able to get a fair price for his production, so he stays locked in the poverty trap. In the same time, our clever food trader makes great margin on buying and selling of farmer´s harvest and so the gap between them gets bigger and bigger. 
One of the best ways how to show this ever growing inequality I saw lately is this picture from Oxfam International: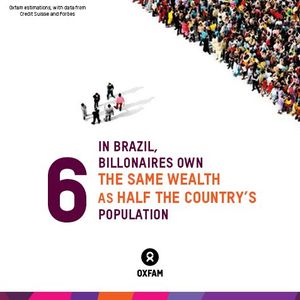 This is why we decided to buy our official Michale Hopes T-shirts from a sustainable company called Stanley and Stella which not only provides for quality cotton, but also takes care about fair payoffs to workers and farmers, which produce our T-shirts.