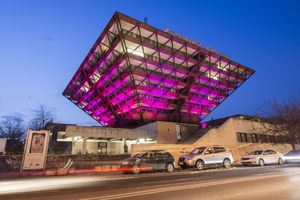 We are very happy, that things moved again with Michael Hopes in the past 2 months. Our new music videos did very well and reached more then 60.000 views as well as many positive reactions on YouTube. I also continued to give out interviews and our new single Whenever got attention from our local radios.  
But our best news is coming in May. On Monday 21st we will give out a live radio-concert in the iconic Slovak National Radio building in our first international cooperation with top musicians from NordicSounds. We are proud to organize this very special venue in celebration of 100 years of independence of Baltic republics in cooperation with Baltic Embassies in Vienna, Honorary Consulates in Slovakia as well as RTVS.  
If you want to find out more, listen to my Ars Musica interview on RadioDevin this Wednesday May 16th from 10:00 to 12:00 a.m. and have a chance to win 2 VIP tickets for the concert and subsequent reception.